At last Sunday night's Academy Awards banquet, worldwide recognition was given to three centerpiece display technologies, LCD, OLED and DLP digital projection, during the Academy of Motion Picture Arts and Sciences Hollywood gala event.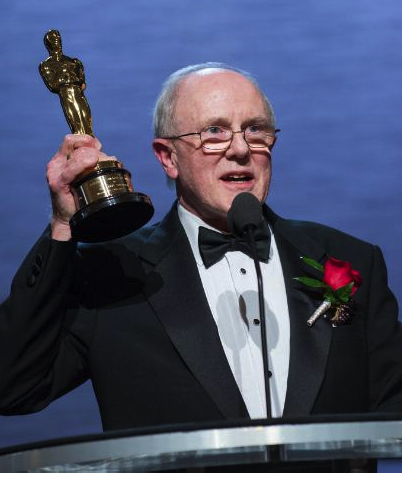 While most of the night celebrated the Arts side of the industry, including the Best Actor nod going to the British actor (Eddie Redmayne), two technical achievement awards and two scientific and engineering awards help span the spectrum of displays that empower the film industry in production, post-production and the ultimate in film presentation.
In that latter category, three awards went to DLP technology, one that included an award of Merit (that comes with an Oscar) to DLP chip inventor Dr. Larry Hornbeck (pictured), who created the DMD's (digital micro mirror devices) for the company in 1987. They went on to dominate all range of projector sizes from tiny micro projectors now found in car HUD devices to massive digital cinema systems that deliver the latest digital movies.
Two teams from Texas Instruments (TI) Cinema Development group also won recognition by the Academy. These include a Technical Achievement (Certificate) for work that optimized the DLP optical semiconductor chip. These went to Harold Milligan, Steven Krycho and Reiner Doetzkies of TI. The Scientific and Engineering Awards were also dolled out (Academy Plaques) going to TI Engineers Brad Walker, D. Scott Dewald, Bill Werner, Greg Pettitt and Frank Poradish.
On the display monitor side, Japan-based Sony was first to market with an OLED TV (Ok 11-inch diagonal does not really a TV make) and the company gained little commercial traction for its efforts. But when the Professional Solutions display group launched its Trimester EL OLED a 24.5″ and 16.5″ diagonal pair of reference monitors in 2011 (Trimaster EL series with full digital cinema gamut) they saw an immediate uptick from an industry hungry for CRT quality displays that would help move them into the digital (HD and now UHD) age. The technology honored is for the HD sets, but Sony also said on the roadmap for 2005 is its BVM X300 which is the next generation OLED master monitor with full 4K resolution, HDR (High Dynamic Range) and reference quality the industry has always expected from Sony. The lead team that took home the awards for Sony included Ichiro Tsutsui, Masahiro Take, Mitsuyasu Tamura and Mitsuru Asano. The original MSRP for the Sony displays was $29K and $15.7K respectively.
At the other end of the price spectrum, HP was also recognized for its relatively low cost ($599-entry) DreamColor Professional LCD display primarily used in feature animation and virtual effects (vfx) work for film (web, game and TV.) The flagship 27-inch is a 14 bit 2560 x 1440 native resolution display (1B screen colors), factory calibrated (100% Adobe) RGB that comes with a software package to sync all displays to the same calibrated color. It supports and scales multiple 4K input (3840 x 2160 or 4096 x 2160 pixels) with D65, D50 and P3 factory calibrated color temps. Awards went to John Frederick, Bob Myers, Karl Rasche and Tom Lianza for the development of the HP DreamColor LP2480zx (24-inch) 1920 x 1200 native LCD Professional Display. (Portrait Displays was mentioned in the acceptance speech as having helped with the development of the colour features of the display. Man. Ed.)
For the record, unlike the Oscar Awards, kept secret and given the night of the event, these awards were all pre announced in January, and a special event was held on February 7, at the Beverley Wilshire Hotel in Los Angeles. So while no Red Carpet for the "hard science" side of the academy the group does have the satisfaction of knowing its their work that brings the Arts side to life. Congratulations to all, you make us display hacks proud. – Steve Sechrist