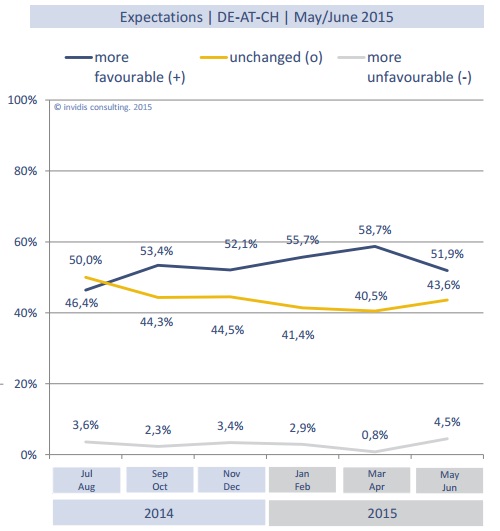 OVAB Europe's Digital Signage Business Climate Index tracks the sentiment of the industry in several regions across Europe. Most recently OVAB has released the May/June results for the DACH region (Germany, Austria and Switzerland).
Sentiment fell 8.2 percentage points from the last survey in March, to 51.35. This accompanied a slight (2%) fall in the perception of the region's business situation, and a lowering of optimism towards the near future (6%). This correction is seasonal, after the strong start to the year that digital signage traditionally enjoys.
The percentage of signage players rating their current situation as 'good' was down to 60.9%, from 63.5%. Those saying that their situation was 'poor' was up from 2.4% to 5.5%. 51.9% of players expect the current business situation to improve over the next six months (down from 58.7%) – but 4.5% expect it to worsen, up from 0.8%. 43.6% expect no change, up from 40.5%.
Confidence in Germany remained mostly flat, while optimism for the next six months was down 7%. The DACH signage industry reflects the trends seen in Germany; both the country and the overall region now expects low double-digit growth in 2015, as was seen in 2014. Germany remains the DACH region's most important signage market.
Austria and Switzerland continue to be challenged by a shortage of skilled labour, with no short-term solution in sight. This shortage stems from different sources: in Switzerland it is the government's mass immigration initiative; Swiss companies have been forced to award tenders to international companies, rather than domestic ones, because of this. In Austria, the difficulties come from a long-term economic stagnation and low GDP growth, as well as IT budget cuts. Despite this, market participants are positive about the next six months: 62.5% expect a more positive situation.
Looking at market categories, display vendors' business sentiment in DACH fell slightly between the March/April and May/June surveys. Expectations for the next six months are negative, as they have been since Q4'14. Falling hardware prices, poor dollar/euro exchange rates and rising competition has made it difficult for vendors to stabilise margins.
Unlike display vendors, system integrators are positive about the market – more than 95% rate their current situation as 'satisfactory' or 'good'. More than half expect the market to grow in the near future.
Software vendors' feelings about their current business have fallen (from 81.8% 'good' to 75%), and only 50% expect the next six months to improve – a sharp fall from 72.7% in the last survey.
Sentiment in the overall DOOH industry is trending upwards. 66.7% of participants say that their current situation is 'good', and only 10% say that it is 'poor'. None expect their situation to grow worse in the near future – 50% expect it to get better and 50% expect it to remain the same.
Windows remains the dominant media player platform in DACH (64.7% share), but Linux is growing (18.1% share) with the popularity of platforms like the Raspberry Pi and Brightsign. Android has a 9.5% share and Apple 6.5%. 78% of signage installations use external media players, and most (77.5%) installations still use one player for each display.
Challenges for the DOOH industry were named as: standardised audience measurement; visibility of media on-site; and the low significance of DOOH in the general media mix.