CINEMOOD LTE provides an "Attractive Learning" experience via an interactive voice interface and AR for kids, and extends beyond Wi-Fi with an offline mode or by connecting to a high-speed network provider.
The new CINEMOOD LTE extends the portable cinema projector's possibilities to be used while preserving the uniqueness of the product's previous version and, in particular, its award-winning design.
In one click, kids and adults can dive into the magical atmosphere created by the portable cinema projector. CINEMOOD LTE will be 5 times brighter than the original version with a 20% wider picture, which provides an immersive cinematic experience at any time of the day, in any place. Thanks to LTE, there is the opportunity to stay connected and stream online content all over the country. Interactive features such as cognitive games, voice control, and 360 AR content provide a brand new "Attractive Learning" experience for both kids and families. CINEMOOD LTE comes with preloaded, licensed content and an internal memory of 32GB for personal files, making this the best portable cinema projector on the market.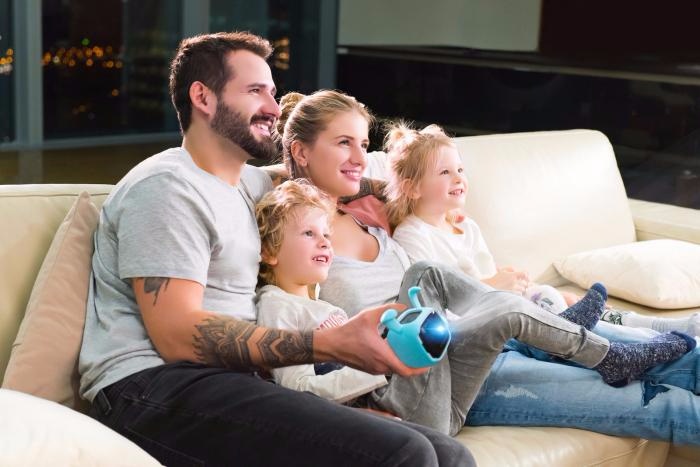 At the end of 2018, CINEMOOD will launch a crowdfunding campaign to raise funds for CINEMOOD LTE production. At CES 2018, all booth visitors will receive a unique discount to pre-order the new product version.
At the exhibition, the current version of the CINEMOOD WHITE will also be presented. This model is packed with 67 Disney original stories and cartoons, as well as over 120 hours of preloaded, popular animations, cartoons, filmstrips, audio books, and lullabies. In addition to the preloaded content, there are several online services inside, including Netflix, YouTube, YouTube Kids, and online cinema ivi. The company will announce the start of official sales of CINEMOOD WHITE on January 9 at CES 2018.
"We entered the market in a fundamentally new category of content distribution devices, not as a hardware upgrade for a typical pocket projector, but instead to establish the concept of a portable movie theater. This developed into CINEMOOD, which gives users access to fun, educational content, the streaming services of our partners, and a huge library of new movies and TV series. We expect significant a growth in users with the new version of the product. This is the evolution of our product vision featuring significant expansion of usage scenarios and functionality," says CINEMOOD product director Dmitriy Matrosov. "We are looking forward for the new business opportunities with telecom and content providers around the globe."
ABOUT THE COMPANY
In 2017, CINEMOOD began sales of the previous version of the CINEMOOD Storyteller 2.0, which was widely distributed across the United States and Europe. Company progress has been historic through the year, with not only tens of thousands of units of the CINEMOOD Storyteller being already sold but also the company managing to land licenses for Disney content, beginning to cooperation with Netflix, participating in the HAX Accelerator program, and also winning the 2017 Red Dot Award—a product design competition.