Wearables – A new Information Week Reader Survey is flying in the face of more traditional market research firms stating that by its reckoning,  more than two-thirds (66.8% from the 585 sample pool) responded Nix to the idea of an Apple or any other brand of Smart Watch.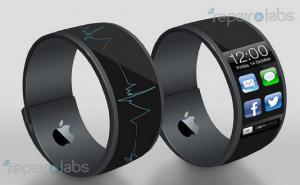 Of that group, the magazine's ad hoc survey said about 23% were interested in the Apple Watch with only 8.7% looking for other brands of the new wearable category.
Truth be told, the technology has failed to gain traction over these past two years, as a mainstream form factor has yet to be defined. There were plenty of prototype design ideas floating out in cyberspace on just what Apple would do, and many analysts believed that since the company was taking so long, it was sure to offer a ground breaking design akin to what it had done in the smartphone category back in 2007.
No such luck. Apple showed a me-too design at its latest confab event introducing the Apple Watch product idea. It notably dropped the "i" moniker from its new product name, perhaps a first in the launch of a new mobile device since the Steve Jobs era, and perhaps just as fitting since some analysts believe that Apple's first attempt would never have seen the light of day under a Jobs run Apple.
The wearable device is crying out for a breakthrough form factor based on a flexible display, and Apple flatly failed to deliver. One look at the design fails to inspire or offer the consumer any sense of innovation beyond a new "crown" interface that may (or may not) be a good idea, as it does require the end user to learn a new interface.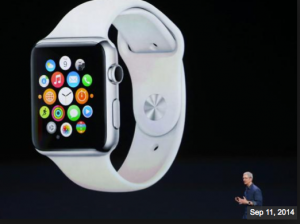 One version of how wearables can gain traction is to finally fulfill on the promise of flexible (thin and sexy) displays. The idea of a lightweight wrist display with a minimum of technology that simply serves as a sensor platform and display device, off loading the computational and communication heavy lifting to the computer in your pocket, is a vision often written about, but up to now remains still in the reality of ideas only.
Apple was our last best hope of bringing this about, but perhaps that hope died along with the founder and visionary who (perhaps) would have insisted on a much more revolutionary design.
It's not like there aren't examples of flex displays in the market today. LG is shipping its Flex Smartphone that is more of a bendable device, but still far from the uber-thin sexy product the concept designers, with the luxury of no design limitations, can dream up.
Suffice it to say, that in the wearable category (and perhaps most others as well) the display is the gating technology that can either make or break a product design. Also keep in mind that it's not just the display but that a flex battery (or at least bendable one) is also required, and an earlier interview with LG over their Flex design revealed it was the latter, (battery) not the display that gave the company the most trouble in delivering a finished product.
So as the Information Week Reader survey portends, the path to an Apple Watch wearable future may not be as easy as the well trodden ones already in place during the Jobs era at Apple. Let's hope the company has "just one more thing" to surprise and delight us with when they do launch the clunky (me too) version smartwatch in early 2015. – Steve Sechrist