Bitmovin, a world leader in online video technology, releases its annual Video Developer Report, revealing a snapshot of the key trends and issues in video technology.
The study is based on the views of 456 video developers at broadcasters, publishers, OTT streaming services, online video platforms and social media platforms in 67 countries.
"The online video industry is booming, with new services launching every day. The Video Developer Report reveals how developers are building services, their plans for the future and the major problems they're facing. As it's the second edition of the report, we can see how these trends are evolving. We find the insights extremely valuable and are pleased to be able to share them with video developers worldwide," said Stefan Lederer, CEO at Bitmovin.
Latency And Device Playback Top Technology Concerns
Latency is the biggest problem being experienced with video technology today, according to over half of global respondents (55 percent) and almost three quarters based in LATAM (74 percent). Delivery delays can be a particular pain point for online streaming compared to traditional broadcasters, especially for live sports events.
The next most prevalent issue is ensuring playback on all devices, pinpointed as a headache by half (50 percent) of global respondents, almost exactly the same percentage (49 percent) as in last year's Bitmovin survey.
A Multi-codec Future And The Rapid Rise Of AV1
H.264/AVC dominates current video codec usage, used by 92 percent of survey respondents. Uptake of H.265/HEVC has expanded rapidly, to almost half of respondents (42 percent), compared to under a third (28 percent) in 2017.
Over a third of respondents (36 percent) plan to deploy H.265/HEVC in the next twelve months. This represents a decrease from 40 percent seen in the 2017 survey, reflecting a trend toward using a wider array of next generation codecs in the future.
AV1 has gained significant momentum, with nearly a third (29 percent) of respondents planning on using the codec in the next year. This is over double the rate of planned usage (14 percent) that was seen in the 2017 Bitmovin Video Developer Report. 15 percent are planning on using VP9, down on 18 percent from 2017.

Ongoing Fragmentation In Streaming Formats
HLS and MPEG-DASH remain the most popular choices in streaming, used by 82 percent and 61 percent respectively. However, there's also considerable fragmentation, with RTMP used by a third (33 percent) and Smooth Streaming (27 percent) and Progressive Streaming (23 percent) each used by around a quarter. Usage of MPEG-CMAF has nearly doubled since last year (from 6 to 10 percent) and nearly a quarter (23 percent) plan to implement the format within the next 12 months.

Apple Narrowly Leads A Multi-device World
HTML5 via browser is by far the most widely used format for video and audio delivery, with 87 percent of those responding to the survey using it today. Currently, Apple iOS is the most widely supported native platform at 62 percent vs 60 percent for Android globally. The trend is consistent in most regions of the world at 65 percent (vs 63 percent) respectively in APAC, 64 percent (vs 59 percent) in North America, 63 percent (vs 59 percent) in EMEA, and 63 percent (vs 63 percent) in LATAM.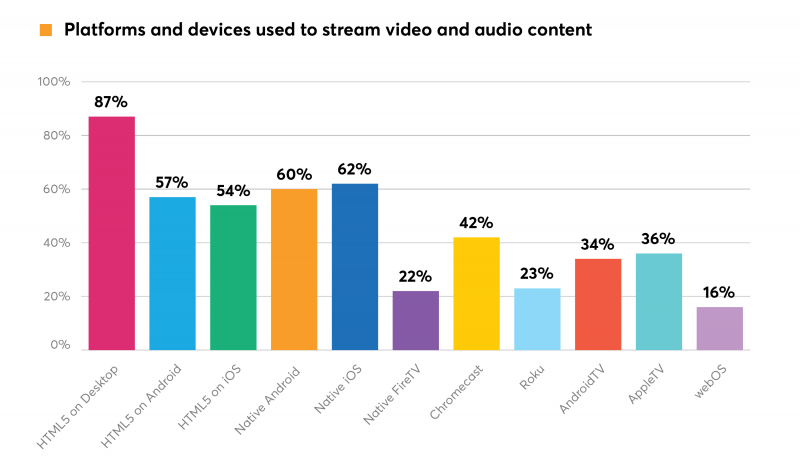 Looking at support for consumer TV devices, Chromecast is the current leader, supported by 42 percent of survey respondents compared to 36 percent for Apple TV, 34 percent for Android TV and 23 percent for Roku. Android TV is likely to see most momentum in the next 12 months, with 17 percent of developers planning to move to add support, compared to 16 percent for Apple TV, 11 percent for Chromecast and 10 percent for Roku.
Usage Of DRM Is Increasing Rapidly
Over one in three (36 percent) respondents said that they are not using any DRM/ content protection system at all, peaking at 40 percent of respondents in EMEA.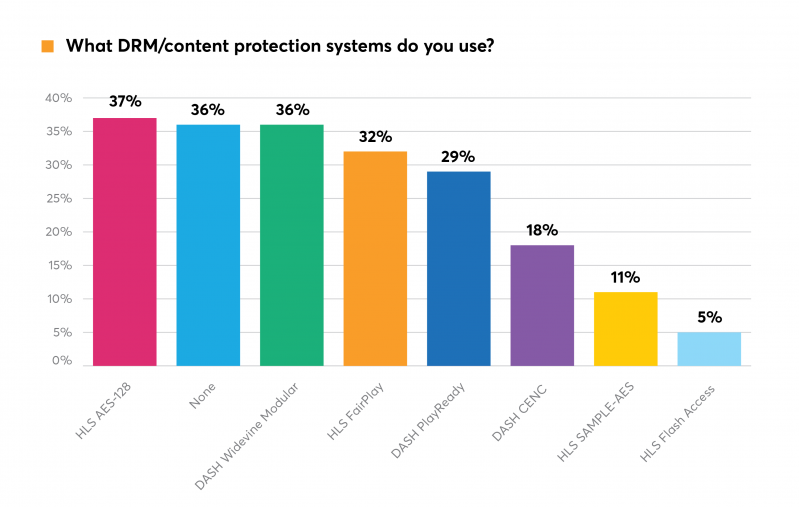 This represents rapid uptake since Bitmovin's 2017 survey, in which two thirds of global respondents (65 percent) said they weren't using DRM at all. This could reflect a shift of premium content from traditional cable and satellite services to OTT/ online delivery.
To download the report please click HERE.