TVs – Today is our Thanksgiving holiday in the United States, when we travel long distances to have overly large family dinners with people we don't like. The traditional main dish is roast turkey, and turkey is also our slang term for a fool or failure – as in, "It's hard to fly with the eagles when I'm stuck down here with all these turkeys".
Sitting down with strange companions to consume a turkey describes the agreement Sharp has made to license its brand to Best Buy "for use on an exclusive line of LED TVs that the retailer is direct-sourcing elsewhere", as Gret Tarr and Alan Wolf described it in TWICE.
This may be foul for Sharp, but it's most likely filet mignon for Best Buy. After all, the retailer gets to slap a tier-one label on low-end TVs, while Sharp gets to devalue its brand. Can the Japanese manufacturer possibly make enough money from this deal to compensate for that?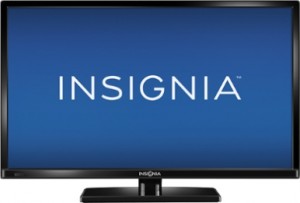 There is a kinder way to parse this deal. My friend and colleague Pete Putman sees it this way: "This is what Sony should be doing for 2K TVs, instead of manufacturing/distribution/marketing/advertising. So far, that has been a money losing proposition". In other words, Sharp gets to make its high-end, large-screen TVs, on which it may actually make some money, and at least gets to make something as it off-loads the small-screen, low-resolution cheapy business.
That leaves BB with the interesting problem of differentiating its Sharp-branded sets – initially 32″, 42″ and 50″ 2K sets currently selling for $200, $330, and $430 – from its house Insignia brand. And Sharp has to differentiate the cheapies from Sharp's AQUOS line of premium small and mid-sized sets. Your heart has to go out to Jim Sanduski (acting president of Sharp Electronics Marketing Company of America and Senior VP for product marketing) as he tries to dance on this tightrope.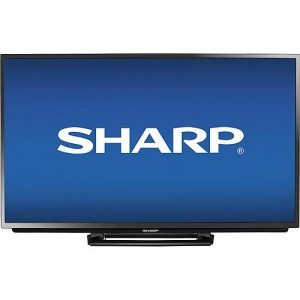 As Sanduski put it in an email to Tarr and Wolf: "The TVs are being produced to Sharp's "exacting quality standards" and are separate from, though complementary to, the Sharp Aquos line of small- and mid-sized premium LED TVs". Quoting Tarr and Wolf, "Sanduski said his company is involved in the Best Buy program end-to-end, from developing the models and ensuring they meet Sharp's quality requirements to creating in-store and online marketing materials to support them". And, "Sanduski emphasized that Sharp remains fully committed to the open Aquos line and its national and key regional customers, including Amazon.com, hhgregg, P.C. Richard & Son, Sears and other dominant dealers". Sanduski added that the products are produced specifically for Best Buy's Sharp line and "are not simply re-branded Insignia products". You see Sanduski's problem.
Now, Jim Sanduski is a complete pro and I genuinely sympathize with the marketing problem he faces. In his comments, Sanduski simultaneously tries to protect Sharp's brand value, assure BB customers that BB Sharp (Bharp) bare-bones TV sets will somehow be better than Insignia bare-bones TV sets, and assure his key customers for premium sets that they still have Sharp's full support.
If that's not a rotten turkey Sanduski has been given to eat this Thanksgiving, I don't know what is. – Ken Werner