Two years ago at CinemaCon, Barco introduced their Cinema lobby concept – essentially a digital signage solution tailored for the cinema industry. In a call just prior to CinemaCon, Greg Patrick, VP Digital Cinema for Lobby at Barco, explained that the refinement of the solution is now done and they are ready to roll out solutions in a big way.
"We don't call this solution digital signage, we call it cinema signage because it is designed specifically for this industry," explained Patrick. Key elements of the complete turnkey solution include:
Displays (flat panels, video walls and/or projector/screen)
Network and media servers
X20 content management system
Customized content
Audience analytics
Barco has also organized the lobby experience into four zones: box office, concessions, lobby and poster.
According to Patrick, who joined Barco last September after working in the Digital Out Of Home segment, these four areas offer a combination of coordinated custom content and area-specific content. "The concession area will show promos for food, the poster area is running movie previews, box office is showing schedules and the lobby area may be showing social engagement programming," explained Patrick. But then the "lobby domination" programming kicks in. This is the content that Barco puts together from a movie trailer with approval from the studios. It runs for 20-30 seconds on all the screens and creates an experience that all can share."
Patrick explained that Barco's creative team analyzes the trailer content and tries to create clips that will deliver a more immersive experience – and sell the movie. He said they have done lobby domination sequences for a number of films recently such as the new Mad Max film. "For this film we tried to use the sand and sand storms to create a swirling, immersive experience," said Patrick. Six studios are now on board supporting the concept.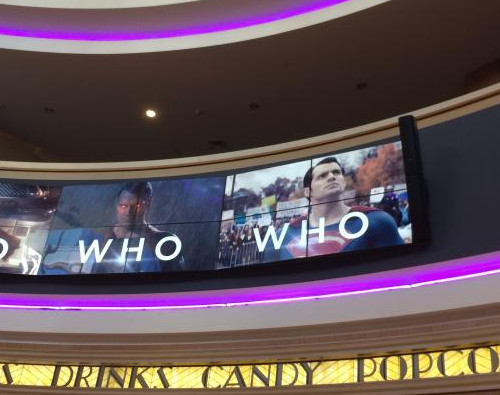 Apparently, Barco can manage all the screens as if they were one big canvas. That allows three or four screens that go from one side of the room to the other to be used as 'windows' into content that spans across the screens. As a result, a car moving from left to right in the video will naturally go from the left side to the right side of the room, creating a compelling visual. Naturally, the sound of the car can also move with it across the room.
Patrick noted that such 'lobby domination' content is designed to create a unique experience for that theater, encouraging patrons to return for this kind of experience. But it is also about convincing patrons to go see that movie as well since the decision on which movie to see can be made in the theater lobby.
To help gauge the effectiveness of the Barco Lobby concept, the company has developed some camera-based analytics that can track the movement of people, their sex and age and dwell time on the various pieces of content. This will all be used to improve content and serve the needs of the exhibitor and the studio.
"The exhibitor is interested in this program to help serve patrons better with food and beverage promotions, loyalty card perks and other special programs. The studios want to understand how the lobby domination content influences ticket sales," noted Patrick.
Can it also be used to sell concession items or external advertisers, we asked? "We created some generic advertisements for concession items initially to help exhibitors understand how it could be used and this has been well received. It has not yet been used for advertising for external clients, but the tools are all there to do so if desired," said Patrick. It might also allow studios to develop content to sell movie-related merchandise on theater–based kiosks and screens (think Han Solo offering to sell you a model of the Millenium Falcon).
One of the flagship locations for Barco Lobby is the Regal LA Live venue, which has been branded as a Barco Innovation Center as well. "There is a hallway there with a lot of columns that we hung flat panel in portrait mode on. This is the kind of format that allows some interesting visual effects to be created from the trailer as part of the lobby domination theme.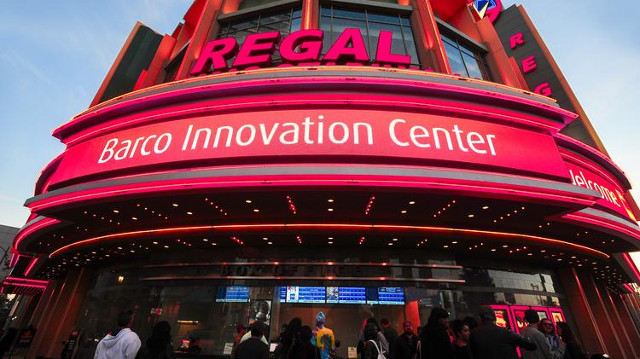 In Germany, exhibitor CineStar has agreed to use some of the Barco Lobby hardware and software in 32 of their theaters. However, it does not meet the definition of a "Barco Lobby" because three of the four areas are not using the solution. But Patrick is hopeful they will at some point. – CC