An entire hall was dedicated to automotive technology at CES Asia 2016 – a big increase over last year. Not all the auto makers were there, but a solid representation. For example, Chevrolet was showing its concept car and Mercedes Benz was showing a concept intelligent aerodynamic automobile which included a shroud that extended out the back at higher speeds to reduce air turbulence.
Many of the HUD products we saw and describe below are aftermarket varieties. That means they are designed to sit on the dashboard or mount to the ceiling. Sometimes content comes from the owner's smartphone, but most seem to feature a wired connection to the car. This is done via the "OBD" connector located under the steering wheel that allows access to speed, mileage, temperature, oil pressure and other vehicle information that can then be processed by the HUD to create the symbology. It also supplies the power for the HUD, which can then offer Bluetooth connectivity to a smartphone for additional information.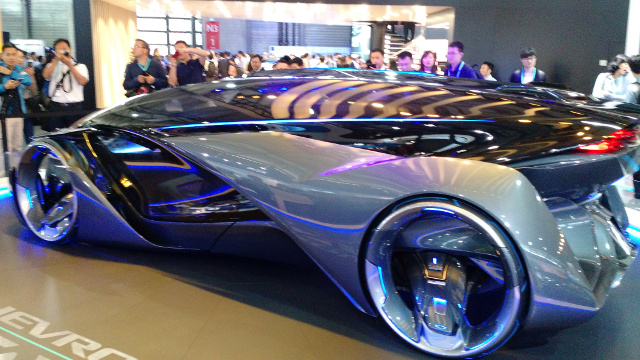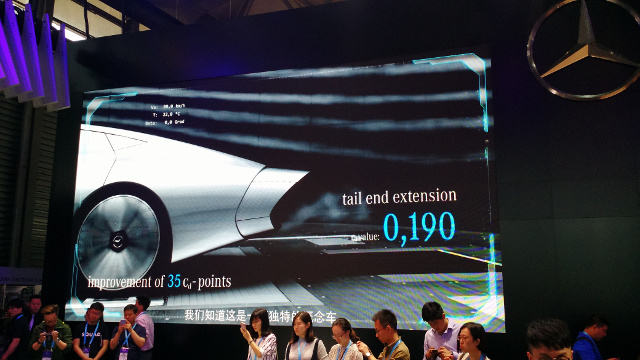 ASTRI used its booth at CES Asia to show off a holographic projector. This is one of the approaches to creating an automotive Head up Display (HUD). In this configuration, an LCOS panel acts as a spatial light modulator with a digital phase pattern (typically a Fourier transform of some symbology) written to the panel. This is then illuminated by one or more lasers.
The big advantage of the approach is that all of the laser light energy is directed into the symbology so very little is wasted. The disadvantage is the need to use expensive lasers and de-speckling technology and the processing-intensive diffractive pattern generation, which needs to be done in real time. Nevertheless, this is the approach that Two Trees uses in the HUD they provide to Jaguar.
ASTRI was showing a breadboard prototype of the projector but it was not operational. It is also a green-only effort at this time with other colors to follow later. The LCOS panel comes from OmniVision. ASTRI is developing the engine and hopes to license it to a HUD developer. They told us they are now negotiating with one maker for an after-market product.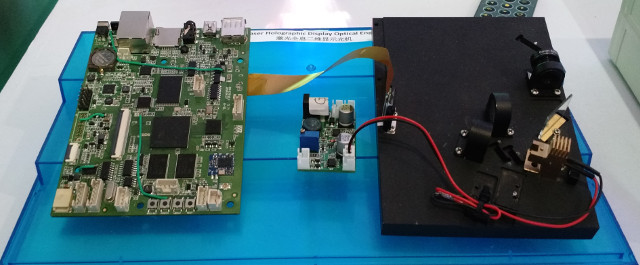 They were also showing a more conventional HUD using an imaging LCOS panel and flip up combiner that can be used to offer an after-market HUD. This was announced at CES 2016 and is intended to be a low cost solution and uses the 0.37" OmniVision LCOS panel with 1280 x 720 resolution, achieving over 10,000 cd/m² of brightness using 2 Watts of LED power. Image size is 12" at 2 meters.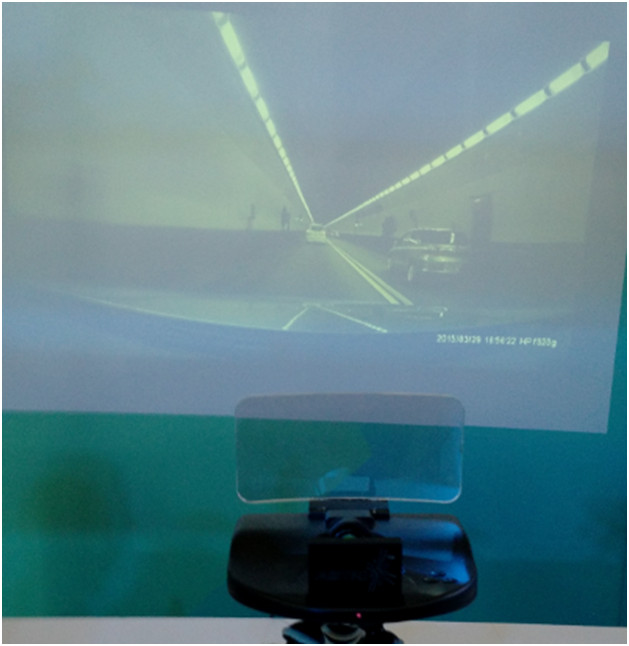 Shenzhen Dsit Technology showed their S1 plus and X1 HUDs. The S1 plus is a ceiling mounted type while the X1 is a dashboard mount. It uses the OBD connection for data and offers a 36" screen at a 3m distance.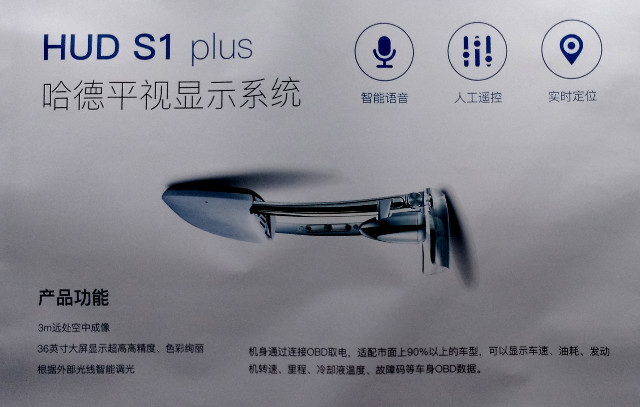 Carrobot showed a dashboard-mounted HUD that has an FM transmitter to send audio to your in-car audio system along with WiFi and Bluetooth for content access. It is available now for 2999 RMB (~$500). It uses a DLP engine with 409K micromirrors. Powering the device is an ARM 4-core CPU with 1 GB of RAM. There is a built-in mic for voice commands and an infrared forward looking camera.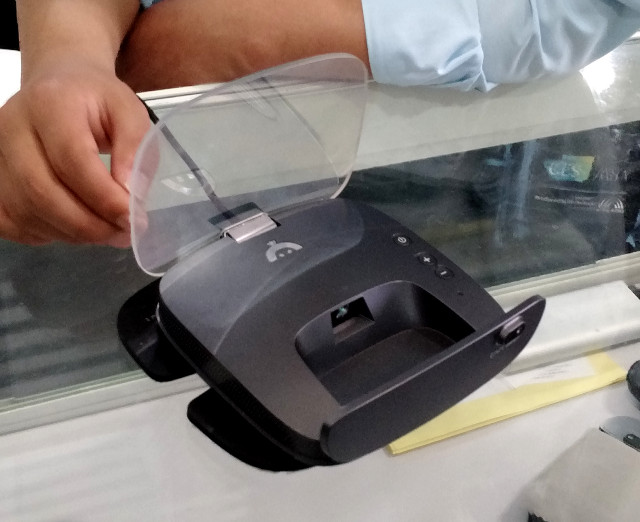 Crystal-Optech showed a DLP-based HUD call Qrios, that they say will launch in June for about 3000 RMB (~$500). The DLP chip has 640×480 resolution and the optics produce a 15" image at 2.2 meters and with a 10-degree field of view. They say the brightness is rated at 15,000 cd/m² over the small viewing area.
Their fancy brochure mentions the CAT OS, an Android-based operating system that helps facilitate access to content. There is a voice interface as well and connection to your phone via WiFi or Bluetooth.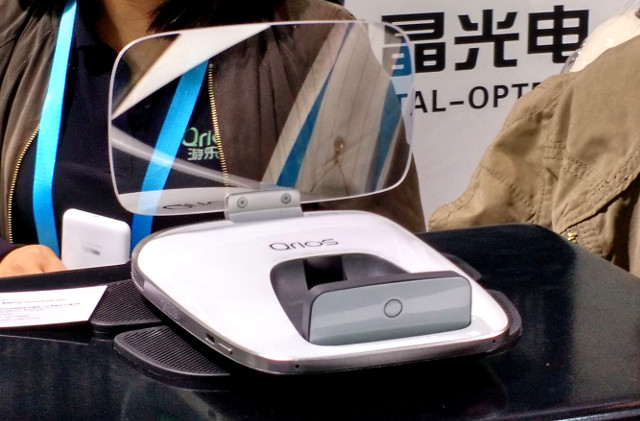 E-Lead used CES Asia to launch their new HUD-2 device which includes a forward looking camera and HUD. The projector and camera are mounted on the windshield near the roof of the car while the combiner is mounted near the dashboard. Unfortunately, these are permanently mounted as the alignment is critical, which means they cannot be retracted or removed if not needed. The HUD uses LCD technology and has a 14-degree field of view. They are looking for OEM customers.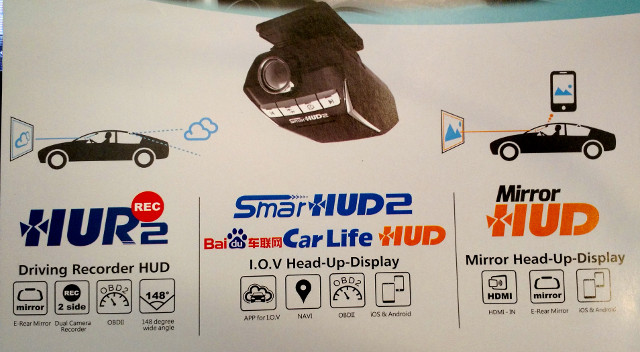 We stopped by the BMW booth to see if they were showing any HUD technology, but they were not.
Pioneer was showing their laser-based HUD, including a simulator that was also showcasing some other advanced technology. We asked for more details on the HUD, but the staff was unable to answer the questions.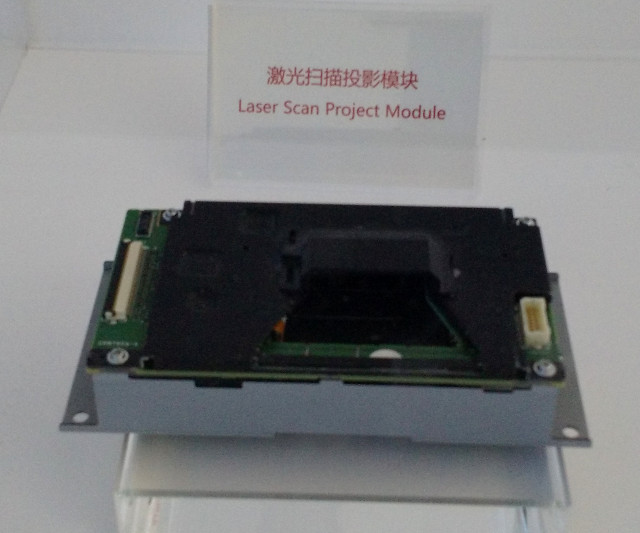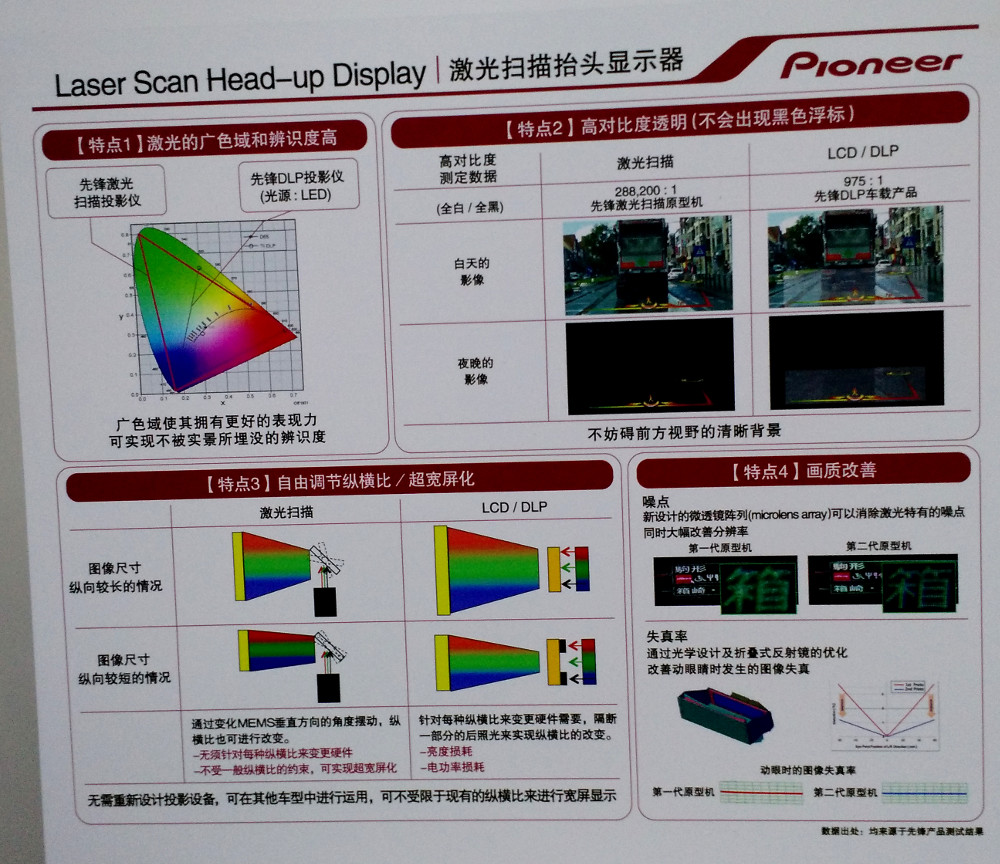 Suzhou Superimaging Technology was demonstrating the HUD projector concept that they have been demonstrating for a few years. This is a projector that emits light in the UV region at 405 nm that illuminates a clear film applied to the windshield. The film has fluorescent materials that convert this UV light to another color. For the HUD demo they showed at CES Asia, the converted light was blue. The advantage of the system is that is does not require a combiner to create the image – a film merely needs to be applied to the windshield. The disadvantage is that it does not create a virtual image so you need to refocus at the windshield, diminishing the value of the concept. The UV projector use a 0.45" DLP chip with a resolution of 1280×800.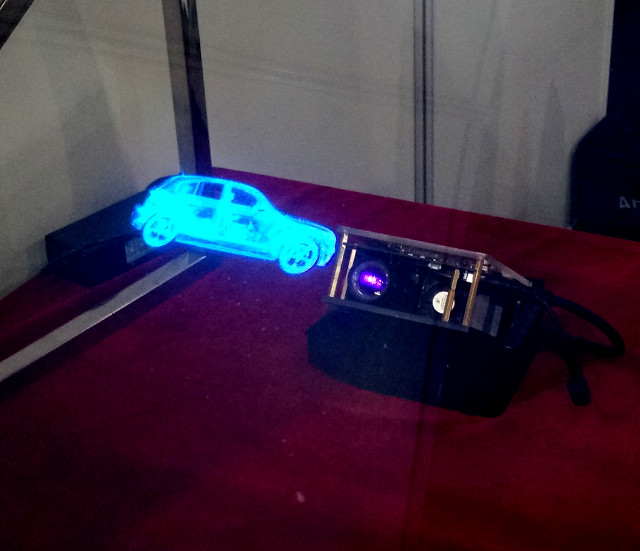 Horizon Technology was showing their Pilot HUD. This is a bit different, too, as it uses a large flat panel display and a coated mirror in a dashboard mounted configuration. This provides a bright and big image (maybe too big) but it requires the driver to refocus at the dashboard – a big negative. They have optimized the coating on the mirror to reflect light in the RGB color filter bands to help improve contrast and brightness.
The company said it will offer the aftermarket product for sale in Q3'16 but the price is still TBD.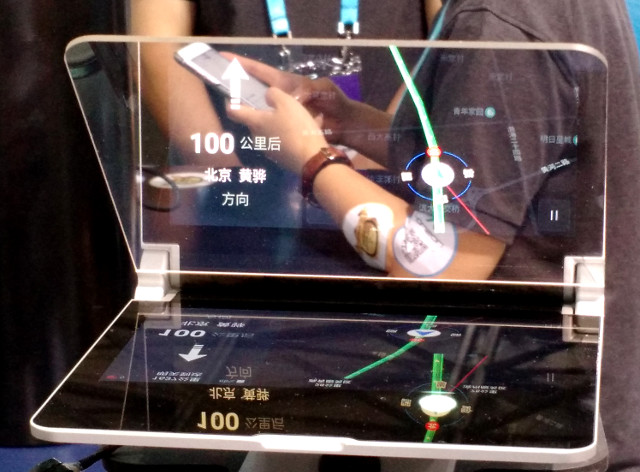 Continental was showing an LVD-based HUD solution that uses a 3.5" panel with 320×240 resolution and a bright 16,000cd/m². The FOV was specifiied at 3×7 degree with a focal length of 1.2 meters. The company already has two LCD-based HUD designs in production, so this new one was developed as a lower cost alternative – about 30% less they said. This is an integrated design, not an aftermarket product.