AU Optronics Corp. ("AUO" or the "Company") (TAIEX: 2409; NYSE: AUO) has announced numerous mobile device displays and technologies, including slim, light and power-saving displays for wearable devices, UHD 4K displays for smartphone and notebook PC, oTP-Lite (on-cell touch panel) supporting professional graphic stylus, in-cell touch panels, and a complete series of ultra high resolution car displays, all of which will be exhibition highlights at Touch Taiwan 2015.
Slimmer, Lighter and More Power-saving Wearable Device Display Technologies for Diverse Smart Life Applications
AUO leverages the features of AMOLED and transflective LCD technologies to develop various ultra slim and light displays with low power consumption for wearable devices, which satisfy user demands for their wearable devices to be power-saving, trendy in appearance, highly readable in the outdoors, and easy and comfortable to use.
AUO's 1.5 and 1.6-inch square AMOLED displays employ glass thinning method to trim the panel thickness down to just 0.45 mm. The ultra thin feature allows the smart watches to look even more stylish and sophisticated. The pair watch design for men and women comes in two sizes that better fit users' wrists. The 1.4-inch full circle AMOLED display, having garnered both Gold Panel Awards 2015 and 2015 SID Best in Show Award, appears in a smooth, full circular contour combined with high resolution, ultra slim and light, wide color gamut and low power consumption features to demonstrate a classic wristwatch style. For the outdoors with direct sunlight, AUO presents 1.3-inch transflective LTPS display adopting Memory-in-Pixel technology,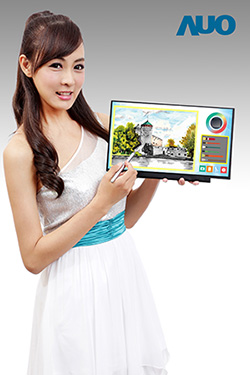 allowing images to be intelligible under sunlight while saving more power. When static images are displayed, the panel requires less than 1% of power consumed by conventional TFT-LCDs. The wearable devices could last for longer hours, suitable for long trips or outdoor activities such as mountain climbing.
Ultimate UHD 4K Image Quality for Upgraded High-end Mobile Device Displays
AUO extends the UHD 4K technology from large-sized TVs to smartphone and notebook PC applications to provide consumers with a perfect viewing experience, and sets the par for UHD 4K screens to be applied on high-end mobile devices. AUO's 6-inch UHD 4K ultra high resolution smartphone display has an ultra high pixel density of 737 PPI, capable of manifesting images in remarkably sharp details and depth, and singles out even one thread of hair. With high brightness and wide color gamut, the display exhibits even more bright, saturated colors with high contrast. AUO's 17.3-inch UHD 4K ultra high resolution display for notebook PC has pixel density of 255 PPI and high color saturation of 100% Adobe RGB to deliver even more precise colors and exquisite image depth. Equipped with AHVA (Advanced Hyper-Viewing Angle) technology, the display retains its exceptional image quality when viewing from different angles.
Integrated Touch Solutions for Much Easier Operation and Convenience
AUO offers a complete portfolio of integrated touch solutions for all kinds of mobile devices. In terms of notebook PC applications, AUO will showcase 12.5-inch and 14-inch oTP-Lite. Without the presence of the cover lens, the devices are lighter for users to carry around more easily. In particular, the 14-inch oTP-Lite is capable of supporting professional graphic stylus. Users can write, draw or mark fluently and with precision, making operation more intuitive. AUO will also present in-cell touch panels for smartphones, including the 5-inch self-capacitance in-cell touch panel employing a-Si TFT-LCD and 5.2-inch Full HD in-cell touch panel adopting LTPS process technology.
Complete Series of High Performance Car Displays to Reform Driving Experience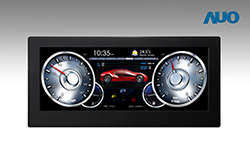 AUO provides a full lineup of car displays with high resolution, wide color gamut, wide viewing angle and high weather tolerance, meeting the high specifications of the automotive before-market applications. AUO will exhibit 12.3-inch LCD for instrument cluster with the world's highest resolution(*), 8 to 10.1-inch high resolution LCD panels for center information display, and 8-inch oTP (on-cell touch panel). AUO is capable of supporting all kinds of vehicle telematics and advanced driver assistance systems with its full array of car display solutions, so that drivers can easily retrieve all sorts of car information to significantly increase safety, and passengers can also enjoy a variety of entertainment systems with ease.
In terms of advanced technologies, AUO will debut the 5-inch bendable AMOLED technology achieved by adopting plastic substrate processing. Integrating AUO's specially designed sensor, users can bend the panel intuitively to manipulate the size and direction of the display active area. Different from conventional touch functions, this bendable panel has revolutionized the operation interface and human-device interaction of display devices.
* Based on the available market research information as of August 24, 2015.