Asus used its press conference to introduce several new products, including a robot called 'Zenbo'.
Set to be launched at the end of September for $600, the robot is a home service unit that can move, listen to commands and use its camera to check on family members. It can be used to, for example, book doctor's appointments and remind people to take their medicine.
In smartphones, Asus showed off a very high-end model, with three variants, called the Zenfone 3. It will join the new Axon 7 from ZTE (Atmos Boosts ZTE Audio) as one of the first phones with 6GB of RAM. As for sizes, the phone falls firmly into phablet territory, ranging from 5.5″ to 5.7″ and a massive 6.8″. However, the top specs are only to be found in the middle model, known as the Zenfone 3 Deluxe.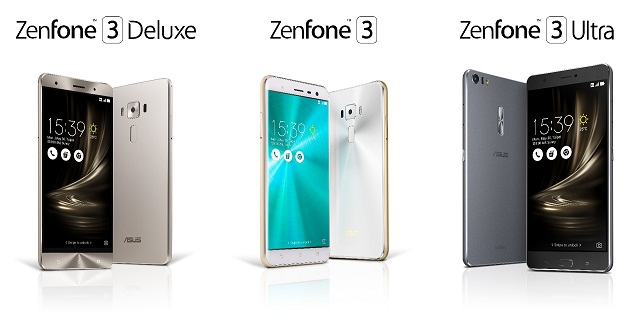 The smallest phone, the 5.5″ Zenfone 3, uses a Snapdragon 625 processor, 4GB of RAM and up to 64GB of storage. An IPS panel, 16MP rear camera and 3,000mAh battery complete the specs. Like all Zenfone 3 models, resolution is 1920 x 1080 and it has a USB-C port and a fingerprint reader.
Asus's Zenfone 3 Deluxe uses a Snapdragon 820 processor and 6GB of RAM, as well as a very high 256GB of storage – as well as micro-SD support. It is also a dual SIM model. Asus mentioned an always-on display mode; a little digging shows that this phone uses an AMOLED screen. Like new Samsung models, the Zenfone will show a clock widget at all times, as well as a cluster of app notifications.
Finally, the Zenfone 3 Ultra uses a 4,600mAh battery and supports reverse charging. However, it is less powerful than the Deluxe edition, with a Snapdragon 652 chip, 4GB of RAm and 128GB of storage.
Although release dates were not shared, Asus said that the phones will cost $250, $500 and $580, respectively.
A premium ultrabook called the Zenbook 3 was introduced. Components are housed in an 11.9mm-thick chassis, and the entire unit weighs just 910g. The low weight was achieved by making the chassis from an aluminium alloy. Extremely thin (3mm) fans keep the case cool.
A 12.5″ display is protected by Gorilla Glass 4. Asus says that NTSC coverage is 72%. The Zenbook runs Windows on a Core i7 processor, with 16GB of RAM and up to a 1TB SSD. A USB-C port is featured. Battery life is up to nine hours; fast charging is built in.
Another third-generation model was the Transformer 3 Pro, a convertible PC that is 8.35mm thick. It has a kickstand, like Microsoft's Surface notebooks, with a stepless hinge. The 12.6″ screen (2880 x 1920) covers 121% of sRGB. Like the Zenbook, the Transformer runs Windows on a Core i7 processor, with up to a 1TB SSD and 16GB of RAM. It also features a USB-C port, as well as HDMI and USB 3.0.
The Transformer 3 Pro is compatible with Asus accessories, such as a pen, Universal Dock and new ROG XG Station 2 external graphics card holder. This holder connects via Thunderbolt, and also adds four USB ports and an RJ45 connection.
A slightly less powerful convertible PC was also shown, in the form of the Transformer 3. This model is 6.9mm thick and weighs 695g, and features a two-position display stand. Everything is identical aside from the specifications: a 512GB SSD and up to 8GB of RAM are installed. USB-C is the only port.
The final convertible PC on show was the Transformer Mini: a 10.1″ model with 400 cd/m²of brightness and an anti-reflection covering. It weighs 790g with the keyboard and 530g without, and is 8.2mm thick. A kickstand with stepless hinge is integrated and a USB port is featured.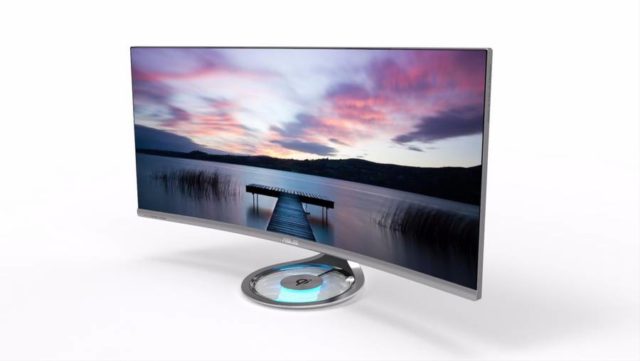 Asus's last product was a large curved desktop monitor called the Designo Curve MX34VQ. This 34″ model (3440 x 1440) has a curve of 1,800R and a 21:9 widescreen aspect ratio.
Separately from the finished products above, Asus' Republic of Gamers arm showed new laptop panels, which are said to be the world's first with a 120Hz refresh rate.
These panels will be available as an option on future 15″ and 17″ models from Asus ROG. They are 'Advanced Hyper-Viewing Angle' (AHVA) units and are compatible with Nvidia's G-Sync technology.