Ray Soneira, president of DisplayMate, has put the Apple Watch through a series of tests in the company's latest Display Technology Shoot-Out. His conclusion is that it is an excellent, artefact-free smartwatch display.
The display is a smartwatch's control system; it is important to have high resolution, thin bezels, high brightness and be power efficient. The Apple Watch uses a flexible OLED screen (widely presumed to be from LG Display), covered with sapphire crystal (or ion-X strengthened cover glass in the Sport model). It is the first Apple product using an OLED display.
Soneira begins by discussing the two main display technology options for smartwatches: LCD and OLED. While other types are being used – primarily electrophoretic and transflective technologies – LCD and OLED rule the roost.
Manufacturing small and thin LCD displays is challenging, because they are formed of several layers. As a result, they tend to be thicker than OLED displays – typically over 2mm – and have a wide rim.
OLED is described as 'an ideal technology' for smartwatches, as they can be very thin, with better black levels, viewing angles and power management than LCD screens. Samsung's smartwatch displays, for instance, are 0.9mm thick. These units can have a very narrow rim and bezel. The biggest advantage, however, is that OLED displays can be flexible. Flexible displays are extra thin, typically less than 0.5mm. They are also lighter and can be enclosed in a smaller space.
The Apple Watch is available in three models and two sizes. Soneira tested the 42mm Apple Watch, with a sapphire crystal cover. Resolution is 312 x 390, with an RGB Stripe sub-pixel arrangement. It has a diagonal of 1.53″, with slightly rounded corners: equal to 322 ppi. This is virtually identical to the iPhone 6.
Colour
It is important that the Apple Watch and iPhone 6 have near-identical displays, as they will often be used together. Soneira found that they both have white points that are slightly too blue (7,200K), which reduces overall colour accuracy, and decreases power efficiency of the OLED display. However, overall absolute colour accuracy is 'Very Good'.
It should be noted that OLED displays usually have very saturated colours. This helps in high-brightness environments, but introduces colour errors in lower lighting levels. To bring the display closer to that of the iPhone, Apple has used colour management. Red and blue admixtures have been added to the green sub-pixels.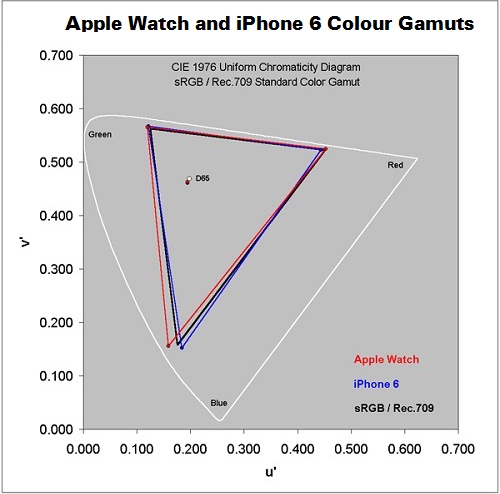 Brightness
Brightness is a key factor in extending smartwatch battery life. Apple has implemented three user-defined settings (low, medium and high brightness); however, these are controlled by the ambient brightness sensor, which cannot be disabled. For example, at 0 lux these levels correspond to 15, 60 and 80 cd/m²; at high brightness levels, the maximum brightness can reach 482 cd/m², which is very good for a watch.
Soneira writes that brightness levels can be 'iffy' at intermediate lux levels, however. The brightest user setting is 203 cd/m² at 500 lux and remains 203 cd/m² at 1,000 lux, rising to 290 cd/m² at 2,000 lux.
It should be noted that Apple has positioned the Watch's ambient brightness sensor behind the display, rather than on the top bezel as is traditional. A side effect is that the sensor is affected by image content shown on the screen. This introduces some variability in brightness levels. However, as ambient light increases this is much less of a factor.
Ambient Light Performance
Ambient light performance is important, as smartwatches are commonly used outside. Adjusting colour gamuts and contrast ratios help to counteract this. Apple's brightness management strategy holds display brightness down as much as possible, which reduces colour gamut and contrast as the ambient light level rises.
At 500 lux (bright indoor lighting), the Apple Watch's contrast ratio is 17 and colour gamut is 69%. In the same environment the iPhone 6 (at maximum manual brightness) has a contrast ratio of 76 and gamut of 90% – although performs about the same as the Watch at maximum automatic brightness.
Viewing Angles
While most displays are viewed from 0°, smartwatches sit on the wrist, and it is more comfortable to view them from as much as a 30° viewing angle. The brightness of most LCD screens falls by more than 55% at such an angle, while OLEDs only suffer from a 20% fall. The Apple Watch, with its sapphire crystal cover, experiences a 32% brightness fall, and also larger colour shifts, due to the higher optical depth of sapphire than glass. The brightness loss and colour shifts can become quite noticeable at 45°+ angles, but will be much less pronounced with ion-X cover glass.
Conclusions
'The key element for a great smartwatch is its display… and Apple has done a great job with the OLED display on the Apple Watch', writes Soneira. 'It provides very nice, pleasing and accurate colours and picture quality, and is a very good side-by-side match to the iPhone 6. It is very nicely implemented and an Excellent Smart Watch Display!'.
To manage power Apple has used its brightness management strategy, detailed above. The display will also turn off after between six and 17 seconds, which 'can be very annoying'.
Soneira has the following recommendations for future smartwatch displays:
Significantly reduce screen reflectance for both sapphire and glass, to improve screen readability and raise battery life;
Widen colour gamut for high ambient light to improve display performance, without increasing power draw. Use dynamic colour management at low brightness levels;
Implement automatic brightness that can be manually adjusted, like the iPhone 6;
Blue is the least power-efficient primary colour for OLED displays, so it is desirable to reduce blue drive levels when possible. Lowering the white point to the standard 6,500K, from 7,200K, can save almost 10% on display power;
For OLEDs, turning off the blue drive entirely and using an RGY colour space would save almost 35% display power. Going even further – turning off the red drive and using only the green primary – would save almost 55% display power.
Allow users to set the length of time before the display turns off.
Analyst Comment
Steve has covered the reflectance issues caused by Apple's use of sapphire in his Display Daily this week: Apple Watch Display Reflectance Unveiled. (TA)