According to a new report from IHS Inc. (NYSE: IHS), the leading global source of critical information and insight, embedded touch displays, including in-cell and on-cell touch displays, are forecast to have a nearly 40% share of touch module shipments for mobile phone applications this year. In-cell and on-cell touch displays for mobile phones grew 47% Y/Y, which was 36% of shipments in 2014.
Apple and Samsung have more than 40% of the global smartphone market, and the growing use of in-cell and on-cell touch technologies by these two companies is driving the direction of the overall touch sensor market. Japan Display also uses hybrid in-cell touch displays in some tier-one brands from LG, Xiaomi, and Huawei.
"The technical touch sensor evolution is changing the face of touch-panel competition," said Calvin Hsieh, director for IHS. "Since Apple adopted in-cell touch technology in 2012, and Samsung chose on-cell AMOLED for their premium product line, embedded touch for mobile phone displays has grown rapidly and has become a threat to add-on types."
According to the Quarterly Touch Panel Market Analysis report from IHS, in-cell touch displays benefited from the success of Apple iPhone 6, and Japan Display's successful decision to approach name brands with their Pixel Eyes module helped them attain 51% Y/Y shipment growth in 2014. On-cell TFT LCD successfully entered the entry-level and mid-range smartphone market, growing from nearly five million units in 2013 to 67 million units in 2014. On-cell AMOLED only grew 9% Y/Y, because Samsung's smartphone growth slowed last year.
Since 2014, panel makers' embedded touch display solutions have extended coverage into all smartphone segments. Apple's in-cell displays, Japan Display's in-cell displays and Samsung's on-cell AMOLED displays primarily focus on the high-end mobile phone market, while on-cell TFT LCD by single-layer patterning fills the gap for entry-level and mid-range markets.
"Due to fierce market competition, declining average selling prices and panel oversupply, panel makers hope embedded touch displays will sway their name-brand customers with the technology's advantages, such as simplified structure, thickness and competitive costs," Hsieh said. "Customer preference for embedded touch displays can increase selling prices and revenues; consequently, nearly all panel makers are aggressively approaching smartphone brands with their own solutions."
As the technology and yield are mature, embedded touch displays are grabbing market share from add-on types. Although module makers work to continuously improve their solutions, panel makers' embedded touch displays have negatively affected conventional touch module makers' business. "Module makers will need to develop new applications to survive, and we will see more touch-enabled applications in the future," Hsieh said.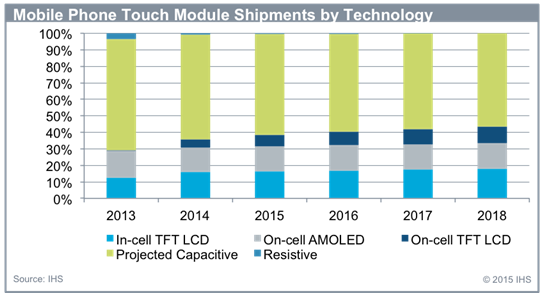 Source: Quarterly Touch Panel Market Analysis report from IHS, Inc.