The Galaxy Note9 holds absolutely nothing back when it comes to speed, power and performance because today's users need a smartphone that allows them to get the most out of work and play.
That's why Samsung Electronics packed its latest flagship device with innovations in software and hardware that not only take mobile productivity to the next level, but mobile gaming as well.
In games where timing and accuracy are everything, the slightest changes in performance, such as unstable FPS (frames per second) rates, can mean the difference between life and death. Mobile gamers want to ensure that their device is equipped with hardware and software they can rely on.
Let's take a closer look at some of the innovative technologies that make gaming on the Galaxy Note9 so much fun.
Smooth, Stable Performance
Many of today's most popular mobile games place players in vast open worlds that can be wonderfully immersive, and incredibly taxing on a phone's processor. When you're in the midst of an epic battle or ever so close to setting a new high score, there are few things more frustrating than when an overworked processor causes a sudden drop in frame rate that leads you to lose focus or fall prey to an enemy attack.
Because a phone's CPU and GPU performance can make or break your gaming experience, Samsung optimized the Galaxy Note9 with a cutting-edge 10-nanometer processor that handles graphics-intensive games with ease. This allows the device to provide 33 and 23 percent better CPU and GPU performance than the Galaxy Note8, helping gamers stay engaged and in the zone.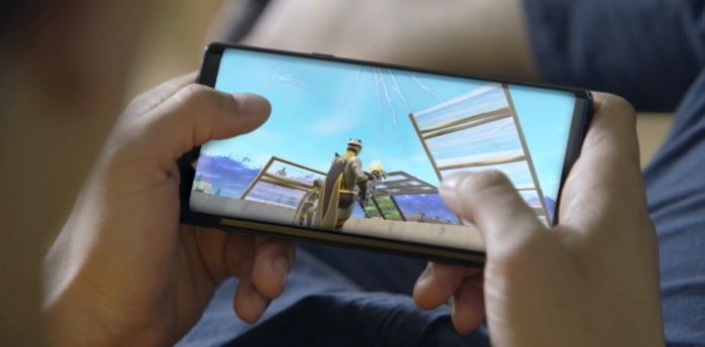 The Galaxy Note9 also features an on-device AI-based performance-adjusting algorithm that regularly monitors the device's heat and performance, supporting up to 40 percent more stable FPS when gaming. Thanks to machine-learning technology, the device can predict a change in temperature before it occurs and adjust the CPU and GPU, before a drop in FPS occurs. That means smoother visuals and a more enjoyable experience when playing graphics-intensive games like Fortnite.
Cool Under Pressure
Playing graphics-intensive games for extended periods of time can place a great deal of strain on a phone's CPU and GPU. To help the Galaxy Note9 perform consistently at a maximum level throughout gaming, the new cooling system needed to be faster and more efficient than previous generations.
The Galaxy Note9's specially designed Water Carbon Cooling system allows the device to run cool throughout heavy gaming sessions. The system, which was first introduced in the Galaxy S7, utilizes changes in the phases of water to efficiently radiate heat – in a cycle where water in a porous structure absorbs heat, turns into steam, moves through pipes and eventually cools down turning back into water.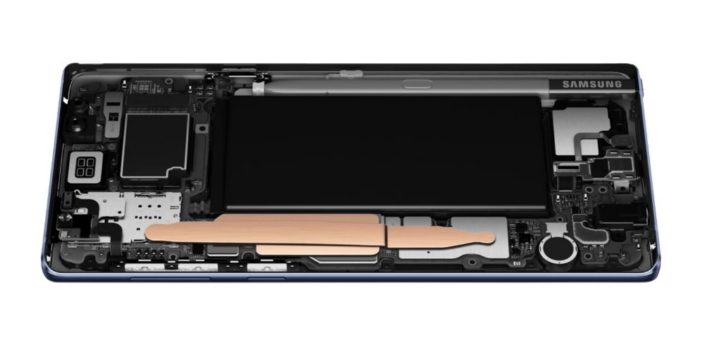 Samsung enhanced the system for the Galaxy Note9 with a heat pipe, or 'thermal spreader', that's three times larger than the Galaxy Note8's, and dissipates heat more effectively. The company also increased the system's internal water intake to foster greater heat absorption, and incorporated an enhanced carbon fiber TIM (thermal interface material) that transfers heat from the processor to the thermal spreader with 3.5 times greater efficiency, thus boosting thermal conductivity.
Together, these innovations enable the Galaxy Note9 to run smoothly during extended gaming sessions, creating more opportunities to play the games you love.
Giving Gamers More Control
Distractions like phone call and text message notifications can be the worst when playing games on a smartphone. Game Launcher, a one-stop hub for mobile gaming on Samsung's Galaxy Devices, is the solution to deal with such problems. Offering a range of innovative tools and features, the Game Launcher allows players to streamline and concentrate fully on their mobile gaming sessions by preventing alerts and unintended screen touch. Users can also share their gameplay using the launcher's screenshot and video record functions.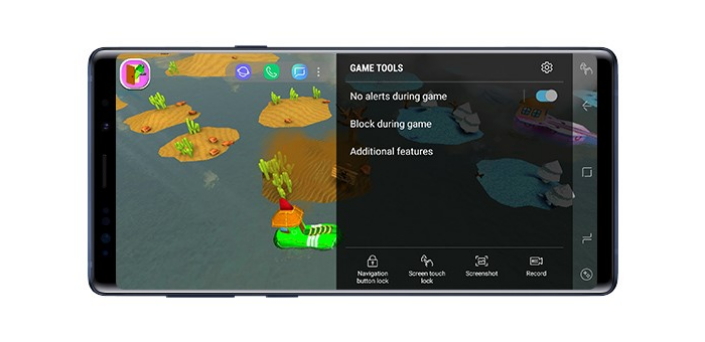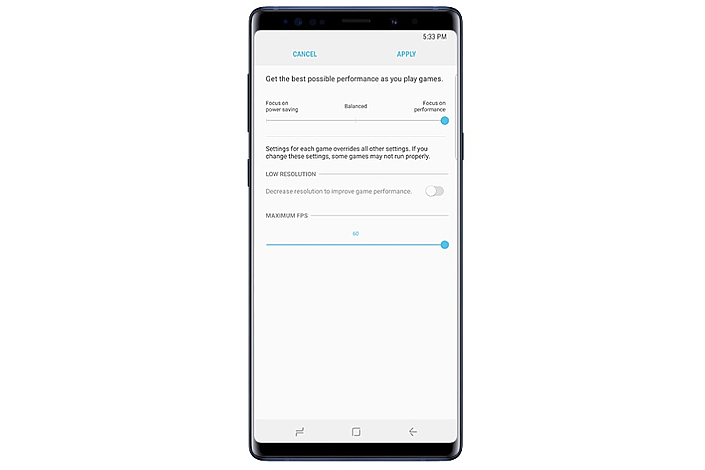 Game Launcher has been enhanced even further for the Galaxy Note9 to let users to get more out of gaming sessions. The Galaxy Note9's improved Game Launcher now allows users to customize performance settings for individual games. Users can specify the frame rate, resolution and battery usage level for each game in their collection, fostering a gaming experience optimized for enjoyment. In addition, a pop-up window function has been added to the launcher, allowing players to effortlessly launch certain apps – like looking for winning tips and tricks on YouTube or sharing game information online – during gameplay.
Game Launcher on the Galaxy Note9 brings games such as Fortnite, Black Desert and PlayerUnknown's Battlegrounds to even more fans*. Galaxy users are also offered special discounts and in-game bonus items, such as an exclusive Galaxy Skin for Fortnite**.
Power to the Players
The Galaxy Note9's all-day battery is Samsung's most powerful and reliable yet, offering users more than enough charge to enjoy hours of intense, immersive gameplay.

The battery's 4,000mAh capacity makes it especially well-suited for graphics-intensive games, whose impressive visuals can drain a battery quite quickly. The Galaxy Note9 allows users to enjoy their games uninterrupted, without needing to constantly keep an eye on the battery's charge level, or worry about connecting their phone to a charger to extend a gaming session.
With stereo speakers powered by AKG, the Galaxy Note9 offers players a critical edge, with the rich sounds offering mobile gamers a more immersive experience.
The Galaxy Note9's high-performance specs and immersion-amplifying enhancements prove that Samsung's newest flagship was designed for those who work and play hard.
*Availability of games may vary by region.
**The exclusive Galaxy Skin can be redeemed by following the instructions found here.