Large Display, Video Wall – SiliconCore a developer of LED-based video wall displays launched its 1.50 mm LED pitch, 260″ diagonal, 4K large format display for the home entertainment industry at CEDIA Expo 2014. SiliconCore's 19ft x 11ft 4K LED display was perched above partner Crestron's large CEDIA Expo booth as shown in the photo below. With this viewing distance, the large format LED display appeared highly detailed with no visible pixelation and only slight surface reflections from the relatively glare inducing spotlighting in the Denver Convention Center venue visible in the photo.
Photo: Phil Wright
As I told Nicos Syrimis, SiliconCore's Senior VP Business Development, I would have preferred to view the large format 4K LED at ground level where I could approach the display and assess the overall effect of the relatively small 1.50 mm pitch of the surface-mounted RGB LEDs. Nicos agreed and said that the firm had previously exhibited a similar display at this year's Infocomm meeting that permitted precisely that form of close inspection. Nicos also mentioned that SiliconCore is taking steps to further minimize the reflection effects that I mentioned were just visible in the glare prone lighting conditions of the Convention Center.
Nevertheless, the SiliconCore 4K LED video wall was a very impressive display and presented an interesting comparison point to the Planar Systems video wall that was located directly across the aisle from the SiliconCore display (photo below). Of course, one immediate point of comparison between the SiliconCore video wall product and the LCD flat panel based video wall is the absence of display panel bezel borders. The pixel pitch of such LCD-based video walls is obviously much finer as shown in the 9xFHD pixel count Planar video wall. However, for viewing distances and settings in which the SiliconCore 1.50 mm display is suitable, the overall appearance and flexible modular design of the SiliconCore display is very impressive.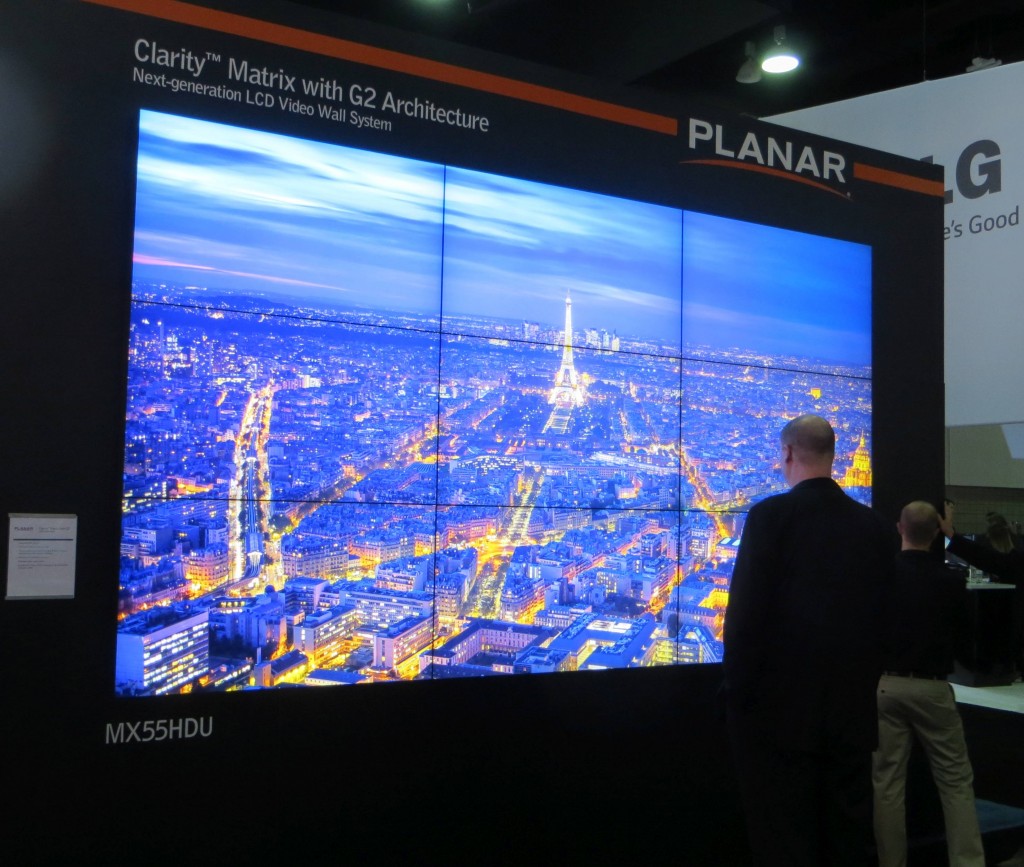 Photo: Phil Wright
Also impressive was the 2000 nit brightness of the SiliconCore display. SiliconCore specs the power consumption of the Magnolia display at 2000 nits at a maximum of 945 W/m2 and at average display levels of 315 W/m2. The figure below illustrates the power consumption of the Magnolia display from 0 to 3000 nits at average and maximum display levels. I note that SiliconCore claims their Magnolia display has the lowest power dissipation in the industry.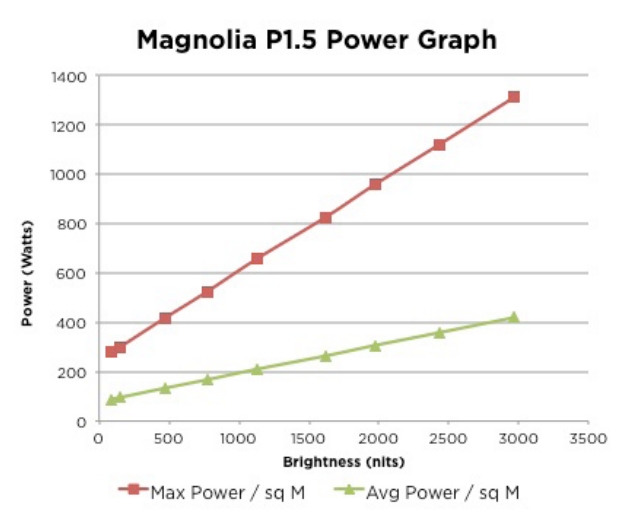 Source: SiliconCore
Also impressive is the lifetime to half brightness which the firm specs at 100,000 hours. A spec sheet is available here (PDF). – Phil Wright