Wearable – When it comes to the retail of consumer electronics, there is the Apple store and then there is the rest. When Apple opened its Apple stores many analysts were skeptical about the chances of a single brand retail store in typically prime locations of the major cities around the world. Apple proved them all wrong with the outstanding success of the Apple retail stores.
Of course, if you are selling the best products people will come. On the downside, if you do not sell the products people want, they won't come. On the other hand, if you have a retail store for your products, would you sell the products of your competition?
Apple answered this question by pulling the products of its (future) competitors from their shelves. This includes headphones from Bose and the Fitbit wearable devices. While dropping Bose headphones after acquiring Beats is an easy decision, dropping Fitbit is not as clear cut. Apple insists that its Apple Watch is far more than a fitness band. So why is it dropping Fitbit then?
Maybe Apple recognizes that the value proposition for a smartwatch is still unproven and its health and fitness aspect may indeed be one of the key drivers for future adoption? TECHnalysis Research expects wrist worn wearable devices to outnumber other smart wearable device by a large margin.
Source: TECHnalysis Research
The market research into this market is still in its infancy, there is very little reliable data on actual sales. For example Canalys claims that in the first quarter of 2014 Pebble, Sony and Samsung controlled 66% of the market. Does that mean the analysts did not count fitness bands or have they disappeared? It's a little confusing, to say the least.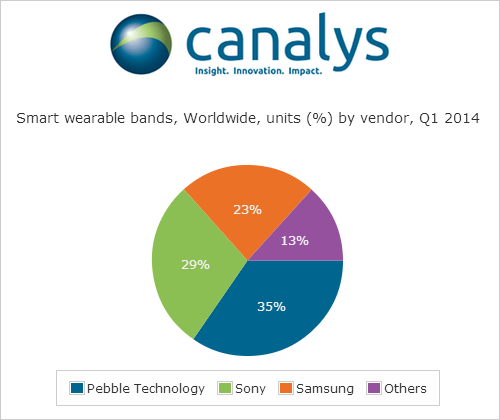 Source: Canalys
The wearable electronics market is still in development and I am sure that once the Apple Watch is available, the pie charts and market forecasts will change drastically. For one thing, at the end of the quarter we will know how many Apple Watches have been sold, if Apple extends its open market data policy to this device. – Norbert Hildebrand