In case you missed it, at Tuesday's WWDC (Apple's world wide developer conference) in San Jose, CA the company sent a pricing bombshell to the fan base that some analysts are saying elicited downright anger from a traditionally hyper-loyal fanbase. The noticeably audible response from the crowd can be found at what is now becoming a 'web legend' at the 1:41:41 time mark into the presentation.

All that noise aside, Apple ushered in a new era of powerful professional tools including a 'world-class' 32-inch studio reference display monitor (6016 X 3384 pixels) with desktop PC to match (targeting 8K video editing). The crowd of mostly Apple loyalists plus a few press folks (no not me!!) were duly impressed with the ground breaking speeds and feeds. Then came 1:41:41 into the presentation, the point in the talk where Apple dropped its bombshell $999 price for the monitor stand, a feature most expect to be included with its $6K monitor (with nano surface glass option).
Yikes! Keep in mind this is no ordinary display, that clocks in with reference specs unseen in the market, and the ability to maintain (indefinitely) a whopping 1000 cd/m² of brightness without overheating, thanks to its unique heat sink and exterior design.
Base Specs:
32-inch Retina 6K resolution 10 bit LCD (6016 by 3384)
20.4 million pixels (at 218 pixels per inch)
P3 wide color at 10-bit
Anti-reflective nano textured etched cover glass ($1K option)
1,600 cd/m² of peak brightness
1,000,000:1 contrast ratio
Superwide viewing angle ("up to 25X better off-axis viewing")
Reference modes
Thunderbolt connectivity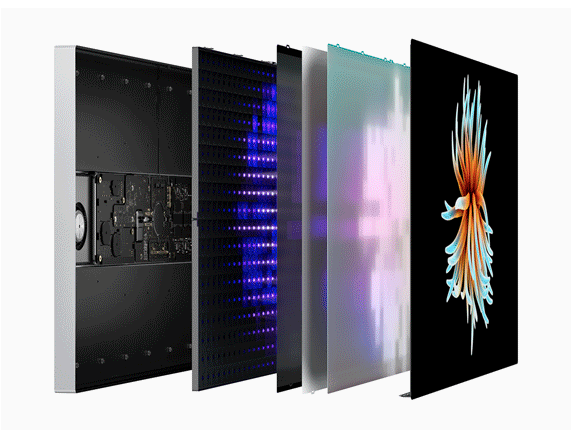 Our take; yes, the $999 price tag on an "optional" display stand really is an aside to all the performance specs (not to mention the way sexy design) one receives from this new studio reference monitor display. The point was also made by Marques Brownlee of MKBHD (Youtube), that this was a golden marketing opportunity by Apple to offer a whopping $1K off the price the best "value" studio reference monitor, if you take delivery without the stand… Brilliant bit of marketing – that somehow got past the (overpaid?) guru's at Apple.
Truth be told, most video editing pros, including studio edit suites et al., already have a pre-configured workspace, that will not require this kind of elite hardware stand. And by the way, this is a niche product that traditionally sells in the 5 figure category (Sony has one selling at $40K) so a lousy $1K for the stand is chump change by comparison. But it does underscore (and is fun to note) the uncommon pricing gaffe from Apple's cadre of marketing pros. And while they may have been slipping lately, the display engineering team is firing with all cylinders in the delivery of a stunning new display. Can't wait for this to hit the DisplayMate lab to run it through its paces. — Stephen Sechrist
EIZO Announces ColorEdge PROMINENCE CG3145 is the First HDR Monitor in the World to be Awarded Class 1B by the IRT
A Whole New Level of Immersion: MMD Launches the Philips Momentum 32" Console Gaming Monitor with 4K UHD Display and Ambiglow
EIZO Releases Its First ColorEdge Monitor with Power Delivery USB Type-C for Creative Enthusiasts
IDC Reports Stronger Second Half of 2018 in Worldwide PC Monitor Market
Ikegami Announces HDR Support Option for HLM-60 Monitors